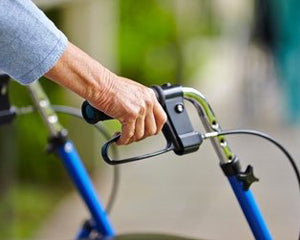 Choosing the Best Cane or Walking Stick For You!
The ability to get from here . . . to there . . . is practically the definition of independence.  And Allegro offers hundreds of ways to get there, regardless of your ability.  Just take a look at our large selection of
Walkers & Accessories
or our
Canes and Walking Sticks
Choosing the right mobility equipment is important for your health and safety.  Read the product descriptions carefully so that you understand the capacities, dimensions and benefits of each product. Your physical capabilities must also be considered when choosing the right mobility equipment.  Your doctor, caregiver or  health care professional can help recommend the best type of equipment for your current and future mobility needs.  When it comes to getting around, Allegro is sure to have exactly what you need.
Canes can be used for balance (single tip) or to bear your full weight (quad).  The top of the cane should be at the same level as the crease on the back side of your wrist with your arms at your side.  Measure the distance from your wrist to the floor, with shoes on.  Review
The Best Walking Canes for Seniors and Elderly
for more information.
For balance, or if you are at risk for falling, a walker may be the perfect choice.  Rule of thumb: A standard walker without wheels is most stable.  Walkers with wheels may get you around faster, though, because you can put your weight on the walker as you move.  Rollators, or 4-wheeled walkers really keep you moving.