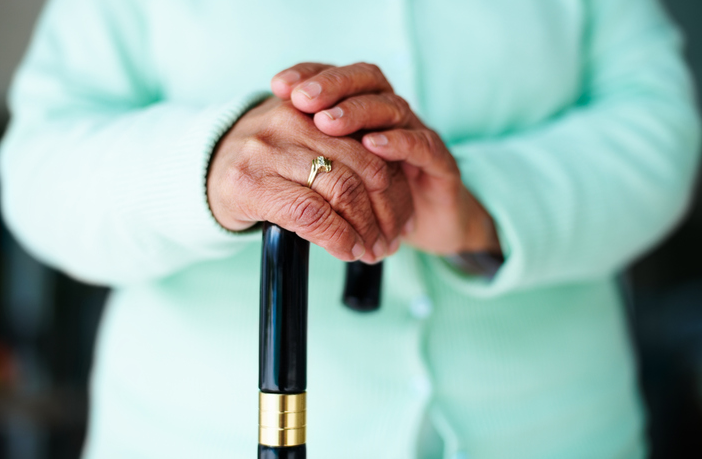 The Best Walking Canes for Seniors and Elderly
 A cane is usually the most basic walking aid for most seniors and elderly. When most people think of a cane, they tend to think of a wooden hook shaped cane like their grandfather had. But there are many more options to consider when searching for the best walking canes for seniors and elderly. There are other shapes, bases, and features of canes that are important for improving mobility. Keep on reading to learn more about these options.
How are Walking Canes Used by Seniors to Improve Mobility?
Before learning about the best walking canes for seniors, it is important to really understand how a cane is used. Often, I see people who are using canes incorrectly. Other times, I see people using canes who should probably be using a wheeled walker or even a rollator with a seat. The reason is often they refuse to use a wheelchair even if it's the best option.
Canes are for Balance – Not Weight Bearing
The proper use for a cane is just to help maintain balance. A cane should never be used for weight bearing or for full support of the body. People who hold onto furniture when waking at home usually benefit from using a cane. Also, people who have a foot that drags from a stroke or injury could benefit from cane.
Adjusting a Walking Cane for the Proper Height
Most canes are adjustable in height to fit seniors of varied heights. Some use a simple metal push button and others use a clamp. A cane that is too high causes shoulder pain. Smaller people should not use a cane that is too tall. But, a cane that is too low causes the senior to bend over too far which hurts the back.
When a cane is adjusted properly, there is a slight bend in the elbow with the user standing nearly straight up. For most seniors, setting the cane so that the handle is just below the hip joint is about right.
The Correct Way to Walk with a Cane
Yes, it does matter what hand the cane is held in. The cane is held in the hand ON THE OPPOSITE side of the injured or weak leg. And here is why.
In the typical human walking pattern, the left arm swings out as the right foot steps and vice-versa. This is how we humans maintain our balance. So, holding a walking cane in the hand that is on the opposite side of the injury, allows seniors and the elderly better control of their balance.
After getting the cane in the right, er, correct hand, the user should just walk normally. If the senior finds themselves putting weight on the cane or cannot keep a normal walking gait, a different mobility aid is probably needed. Also, If both legs are injured or weak, a walker or rollator is usually more appropriate. Sometimes wheelchairs or even power wheelchairs are the safest choice.
Types of Walking Canes for Seniors and Elders
Walking canes come in many types, styles, and forms. Probably many more than you realize. It is also important to know the differences between walking canes and walking sticks. Some types of walking canes have specific functions while others are also designed to look good or more stylish. Here is a quick rundown of some of the types of walking canes:
Standard Cane
A standard walking cane is the basic cane most seniors are familiar with. These are simply a support rod made of wood or steel usually with a curved or straight handle at the top. The cheapest canes are wooden ones but they are usually not adjustable in height.
There are many different handle styles for standard canes. Most, though, are classified as either a curved handle or a straight handle. Many doctors and therapists prefer a straight handled cane because it matches better with the hand angle while walking. A straight handle is more ergonomic than a curved handle.
Advantages: Least expensive, lots of choices in both design and style
Disadvantages: only for mild balance problems, weight distributed on a single point
Offset Handle Cane
The offset handle is a variation of the standard cane. I've also heard them called crookneck canes. With an offset walking cane, the cane bends like a swan neck before the handle. This distributes the senior's weight over the cane tip for better balance. Like the standard cane above, there are many styles, colors, and designs to choose from.
Advantages: inexpensive, distributes weight directly over cane tip, lots of options
Disadvantages: only for mild balance problems
Quad Base Cane
 A quad base cane is a walking cane with a wider base. On this wider base are 4 cane tips that make contact with the ground. Because the base is wide and has more points of contact with the ground, it is more stable than the other types of walking canes. So, the quad cane is designed for seniors and elderly who need a little more balance support than standard canes offer. Find the best quad canes here.
Advantages: Weight distributed on multiple points, able to stand on their own
Disadvantage: Not a lot of style choice, a little heavier than other canes
Folding Cane
The folding cane has recently improved in popularity. This type of walking cane is collapsible and will fit into a purse or bag. It is easy to store and take with seniors so it is always available when needed.
Folding canes work like tent poles. The cane itself is made up of several smaller segments that fit together. An elastic cord runs up through the middle of the cane which keeps the pieces together. To use the folding cane, simply push the smaller pieces back together. To store it, the pieces easily pull apart and fold up.
Special canes like these are not usually provided under Medicare benefits.
Advantages: folds for easy storage and carrying, lightweight
Disadvantages: Requires good hand control to be able to fold and put together
Specialty Canes
Recently, there have been several improvements in the design and engineering of canes. Some designs have improved the support and function of a  walking cane. Others add bells, whistles, and gizmos like lights and alarms. Some canes have very unique styling and are marketed specifically for men or for women.