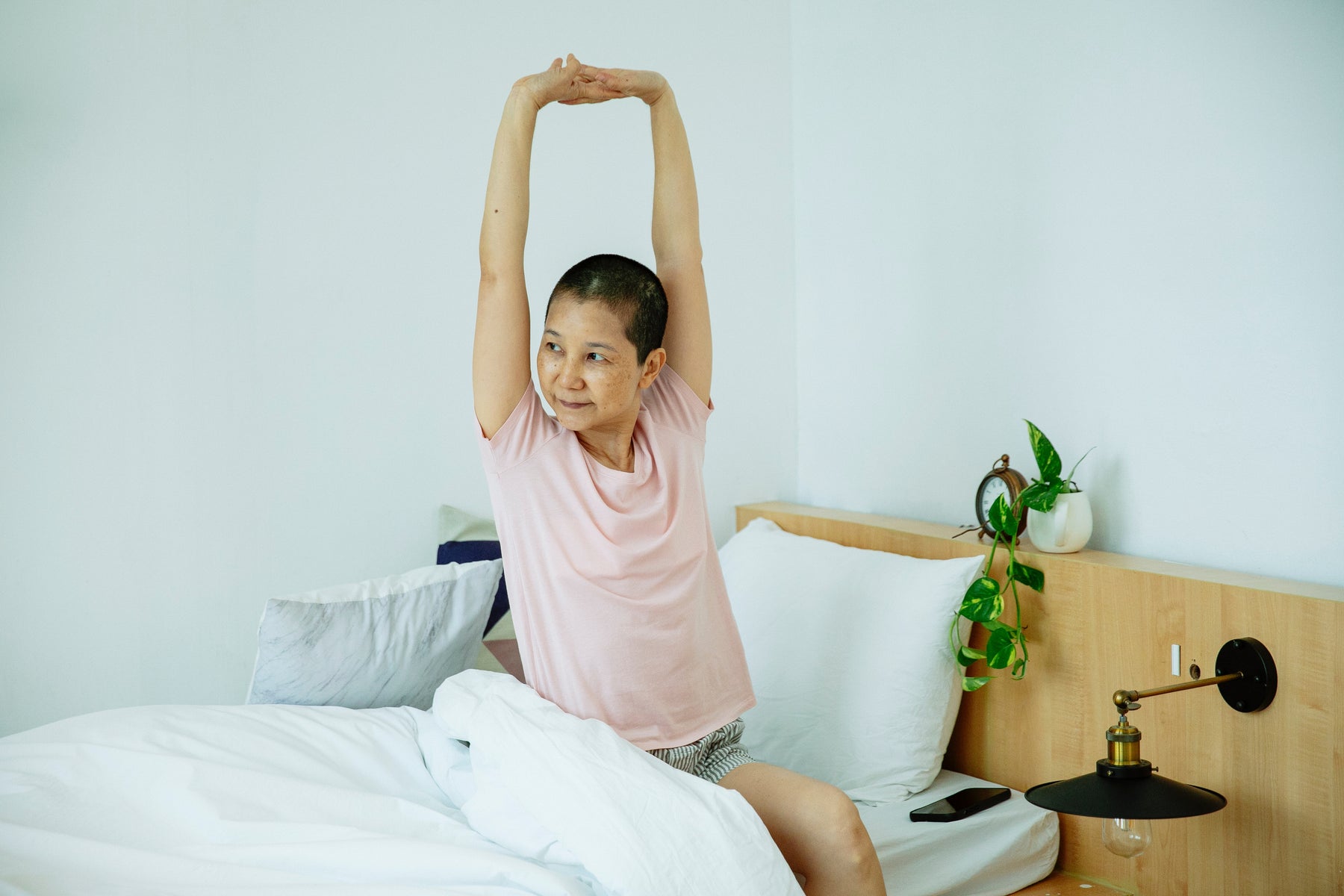 Benefits of Stretching in the Morning
Aging can be difficult on your body and can affect many different parts of the body. As your body changes so do your tendons, joints and muscles. The change in your flexibility When it comes to flexibility, your muscles, joints and tendons all change in a way that impacts flexibility. This change in flexibility may have a direct impact for seniors' strength, mobility and more.
The American Association of Orthopedic Surgeons says that connective tissues between bones and the ligaments lose some of their elasticity which reduces mobility. As joints are used less they begin to lose flexibility as well which in turn reduces seniors' mobility.
To combat this we hope to address some of the benefits of stretching in the morning.
Benefits of a morning stretching
When you sleep your body remains in just about the same position the entire night. This will relax your muscles which reduces blood flow and can cause your muscles to tighten up.  Many people do a brief stretch after sleeping to help wake their body up. This not only wakes up the muscles but it just feels good as well.
Beyond just stretching your arms above your head, actually taking the time to do a little stretch routine can help your body and mind even more. Aside from a good cup of coffee, adding some stretching to your morning schedule will aid in mobility, assist in avoiding injuries and just help ones overall focus as you begin your day.
Help Your Lower Back
For many people, the older they get the more sedentary they get as well. This can cause your lower back to become compressed resulting in pain in that area of the body. While it is good to stay active, stretching can help alleviate the pain and fix some of your back pain issues.
Stress Reducer
It is sometimes difficult to not think, and worry about, what the day has in store for you. This stress can cause tension to build up in your body which can then show itself through headaches or body aches and soreness. Set aside some time in  your morning to relieve muscle soreness and stretch. This will not only help your body feel better but help with psychological and physiological factors as well.
Increase Your Activity
Starting and maintaining a good stretch routine in the morning can help you be more active and mobile the rest of the day. If you're always stiff, the simple tasks like getting out of bed, grocery shopping and even taking out the trash can seem like monumental tasks. As we said previously, your body tends to tighten up during the night. Stretching first thing in the morning can give you a mindset that you are able to be active that day. Coupling that with an aging body that is feeling better after getting a good stretch in will increase your chances of having an active day.
Better Posture
People who sit a good portion of the day have poor posture because of over stretched back muscles. Including targeted stretches to your back and chest muscles can loosen these muscles and improve your posture.
While this is not an exhaustive list of the many benefits of stretching in the morning, it should go to show you how a small addition to your morning routine can impact your entire day.
RMS is a Manufacturer & Online Retailer of quality Home Medical Equipment located in the USA.  We offer a wide variety of products ranging from Mobility & Daily Living Aids including Walking Canes, Bathroom & Bedroom Safety, Dressing Aids, Reachers & Grabbers, Incontinence Care, Braces, and Hip & Knee Replacement Kits and etc.
Our Mission Statement
Our mission is to provide quality products at a competitive price in order to build your trust and become your primary source of popular and hard-to-find home medical supplies.