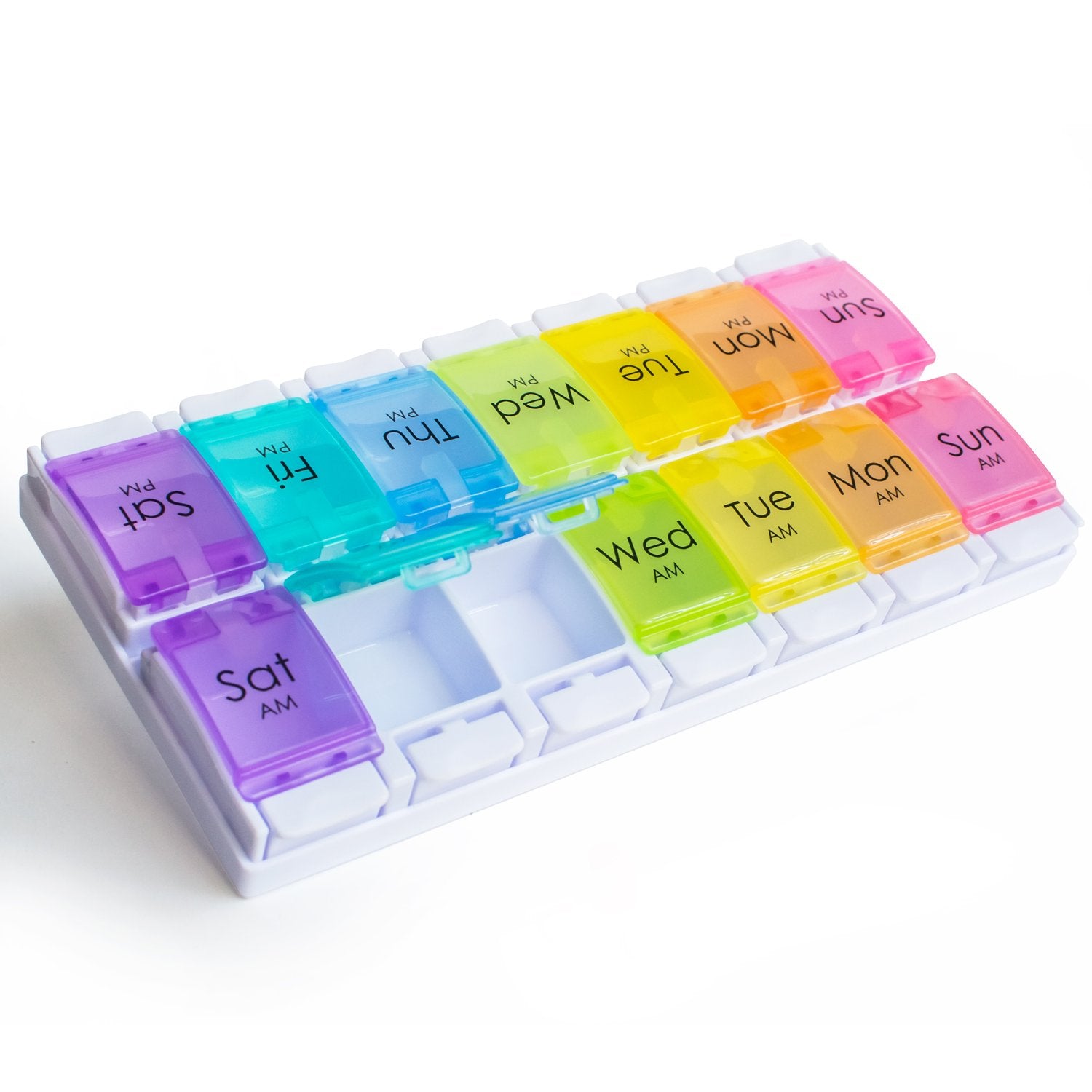 Benefits of a Pill Organizer and Medicine Reminder
A pill organizer is a simple device that can be extremely helpful at reminding people to take the right medication at the right time while helping avoid medication mix-ups. In 2019 nearly 90% of adults over the age of 65 reported taking prescription medication about about 75% of those between the ages of 50-64 do as well. With so many people depending on daily medications it is even more alarming that nearly 50% people forget to take their prescriptions at least once a month and 75% of people don't take them properly.
Pill organizers can help prevent memory lapses or errors but there must be a solid connection between the user and the pill organizer otherwise some of the perceived benefits may be counterproductive to one's health.
What to Look for in a Pill Organizer
When considering a pill organizer be sure to choose one that fits the users needs and abilities and will not be an obstacle for them to not only help them remember to take their prescription but easily accessible as well. A couple things to consider are when choosing a pill organizer are:
Easily To Distinguish
One of the first things that is impacted as people age is their vision. A pill organizer that clearly marks the days, and time of day the prescription should be consumed, can greatly benefit the user. A clear container that clearly displays the days can help alleviate the stress of picking the right pills. 
Manual Dexterity
Another stumbling block can be the ease at which a person can physically access what's inside the container. As we age we manytimes lose manual dexterity and so a pill organizer that is easy to open, yet secure, is very important. We recommend pill organizers that are durable with a pop-up design with large compartments for ease of access. This design is not only easy to open and retrieve the pill but is also easily closed as well to secure whatever is left in the compartment.
The RMS Weekly Pill Organizer and Medicine Reminder and the RMS Daily Pill Organizer and Medicine Reminder are two solid options to consider. They offer large compartments with an easy push button design and yet they are extremely portable as well. Made from food grade plastic with scratch resistant labels they are able to handle the daily grind of being carried in a purse or bag.
RMS is a Manufacturer & Online Retailer of quality Home Medical Equipment located in the USA.  We offer a wide variety of products ranging from Mobility & Daily Living Aids including Walking Canes, Bathroom & Bedroom Safety, Dressing Aids, Reachers & Grabbers, Incontinence Care, Braces, and Hip & Knee Replacement Kits and etc.
Our Mission Statement
Our mission is to provide quality products at a competitive price in order to build your trust and become your primary source of popular and hard-to-find home medical supplies.