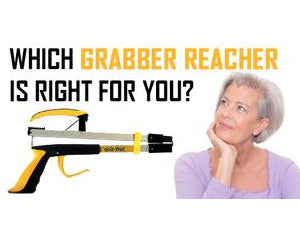 Which grabber reacher is best for you?
Have you ever had that moment where the one thing you want is just out of reach? Literally; you are so comfortable, but this commercial drives you nuts, and the remote is just out of reach!  
Is the peanut butter jar on the top shelf too high?  Or does your back ache when you bend over to pick up a piece of laundry?
I bet right about now you're wishing you could activate your Go-Go-Gadget arms. 
What if I told you, you could?
The Reacher Grabber is our version of the Inspector Gadget's handy invention.
A simply designed tool that aids one in retrieving those just out of reach items.  
Everyone can benefit from using a reacher grabber, but those with mobility issues that stem from dexterity problems, carpal tunnel, or arthritis can really reap the rewards.
By eliminating daily nuisances, not only are our reachers useful for anyone struggling with everyday tasks... w e vouch that they also provide boatloads of entertainment!
Why not see how fast you can pile a stack of fruit? Or how many pens you can pick up in one shot? You can even run around shouting "GO GO GADGET ARMS!" (careful, that one might win you a couple funny looks) 
I know you're itching to get your hands on one of these bad boys, but before you do  take a look at each variation and decide which one you will benefit from the most because each grabber has its own unique features tailored toward specific needs
Now, let's see which reacher is right for you.  
Suction Cup Grabber
The breakdown...
-This grabber is lightweight and easy to manipulate.  
-Designed with a wide range jaw
-This reacher grabber has the strength to hold up to 5lbs or less.
-Jaw consists of two rubberized suction cups attached at the ends.
-Controlled by the trigger located on the handle.
-Suction cup grip attaches onto items and prevents them from slipping.
 
The suction cup reacher grabber is best at...
Picking up your golf ball
Making everyday tasks simpler for those with dexterity or mobility issues
Maneuvering your glassware, electronics, iPads, phones, and remote controls
-suction cup grips work best on glass/smooth surfaces
Rotating Grabber
The breakdown...
-Rubberized jaw for maximum grip on objects
-The  Rotating Reacher was designed with the capability to rotate a full 90 degrees.
-Grabber tool can be used either horizontally or vertically to fit behind or underneath things.
-Ability to pick up objects of all different shapes and materials.
-Reacher handle contoured to fit comfortably in your grip.
-Trigger at handle manipulates opening and closing of the jaw.
-Lightweight frame for easy maneuvering.


The rotating reacher grabber is best at...
Reaching for objects that are behind appliances or underneath furniture.
Retrieving dishes from cabinets, or unloading from the dishwasher
Gardening.  (a.k.a. the garden grabber)
Cleaning -- great for picking up clothes, books, magazines and trash around the yard.
Picking up odd shaped items
Making tasks easier for those who have dexterity or mobility limitations.
Claw Grabber
The breakdown...
-The claw reacher grabber has the ability to pick up smaller sized items easily
-Jaw contains rubberized teeth-like grips to "hook" items.
-Contour handle to provide comfortable grip
-Easy to pull trigger that manipulates the opening and closing of the rubberized jaw.
-Lightweight and sturdy 
The claw reacher grabber is best at...
Picking up small items.
Grabbing your keys or sunglasses before heading out the door.
Assisting with dexterity or mobility restrictions
Hooking onto "ringed" objects
Fishing! --That's right, this is the average fisherman's new best friend. The claw is a great way to remove hooks without worries of being injured by the hook or fish.
So, which is the best reacher grabber?
Well, for the most part, it's really going to be a "best fit" decision 
All three of these grabbers have their own unique features that target to benefit in certain scenarios. When looking into which long handled reacher is best for you, it is important to know what specific tasks you will be using your reacher grabber for.  
BUT if I had to pick a favorite...
it's the Rotating Reacher all the way!
It's simply the most versatile of the three making it the most convenient to have around. Optimizing your reach with the rotating head lets you choose the best angle for retrieving your targeted object, and size or shape is never an issue.  
Regardless of which reacher you choose, you're guaranteed your very own go-go gadget arms for the next time something is just out of reach!