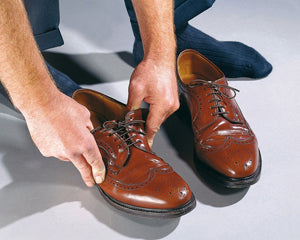 How to choose the right dressing aids
What are dressing aids?
Dressing aids are usually small items, each designed to assist with a specific area of dressing or personal grooming which is difficult because of pain or restricted movement.
Why would you need to use dressing aids?
If you, or someone you care for, are experiencing difficulties when getting dressed, you might feel that you need something to help you.
You may be experiencing difficulties for several reasons including:
Painful or stiff joints due to arthritis
Back pain
Breathlessness
Balance problems or dizziness when bending
Swollen or painful hands and feet
Reduced grip
Dressing aids will help to reduce the movement which causes pain or incites difficulty and assist you in completing the task using an alternative method.
Which dressing aid is best for you?
You will already know what tasks have become difficult so have a look at these common dressing aids to see if there is anything you might find useful.
Using these simple tools could also help to prevent falls caused by bending and stretching to get dressed.