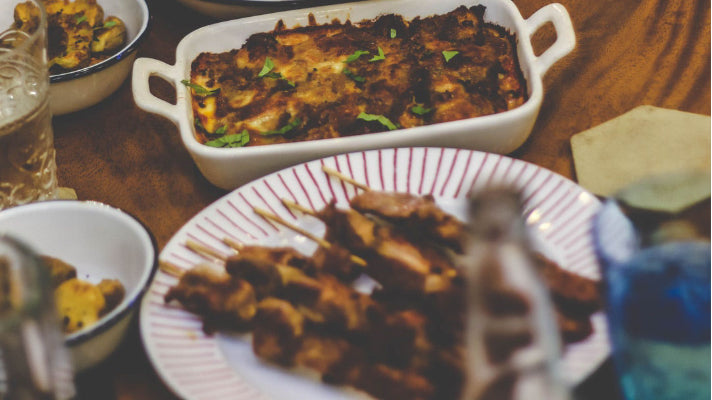 Avoiding Holiday Weight Gain - The Right Way!
Avoiding Holiday Weight Gain
There are a variety of reasons why there are so many New Year's resolutions. A new year is always looked at as a new opportunity or a fresh start. Creating a new and healthy YOU and making "lifestyle" changes are always at the top of the list. Another reason for this is because the holiday season is difficult to navigate through without being confronted with savory meals and heavy desserts which for many will increase the inches on their waist.
Getting a jump start on your New Year's resolution will not be easy but can be made more attainable with just a few simple steps.
Eat a good breakfast
It has been said that breakfast is the most important meal of the day. Although some experts will say this is not necessarily true, many will say that eating a good and healthy breakfast will help prevent binge eating later in the day. So, as you anticipate eating a large holiday meal later in the day, start your day with a full and healthy breakfast to help avoid overeating later in the day.
Pick Protein
Be sure to include a good protein in your meals. Protein can help maintain a healthy weight because they help the body feel satiated. The more content your body feels the less likely you are to overeat and snack on unhealthier food.
Pace your eating
The anticipation of the special holiday meal is many times what drives people to go back for a second and third serving. It is safe to say that we generally rush to get our second serving because these "once a year" foods are there and not because we are hungry. Savor your first plate of food by chewing each bite more and socializing and before you know it you won't want a second serving.
Snack on fiber rich foods
Make sure there are plenty of vegetables and other high-fiber foods available to snack on. Fiber, much like protein, helps the body feel satiated longer than unhealthier snack foods like chips and crackers. So, instead of using crackers, chips or other empty calorie foods choose veggies such as carrots and broccoli.
Drink Water
We've all been told "you aren't hungry you are just thirsty." Well, making sure you have consumed plenty of water is another way to help control your hunger and keep you feeling full. Drinking water throughout the day as well as before eating food can help prevent you from overeating (not to mention your body functions better when properly hydrated).
RMS (Royal Medical Solutions) is a manufacturer and wholesale distributor of quality medical devices located in the USA. We offer a wide variety of products ranging from Mobility, Patient Care, Blood Pressure and Respiratory Care.
LET US HELP YOU
The end of the year is always a time of celebration, socialization and giving. We go to numerous parties, family gatherings and sometimes even white elephant gift gatherings. If you would like to give someone a practical gift this year (or a white elephant gift) we would love for you to trust us to help you with that purchase. We offer a wide range of products that are both practical and for many life giving. Check out our
Active Daily Living Aids
, or another other of our product pages, to find the perfect gift for a family, friend, or white elephant participant.