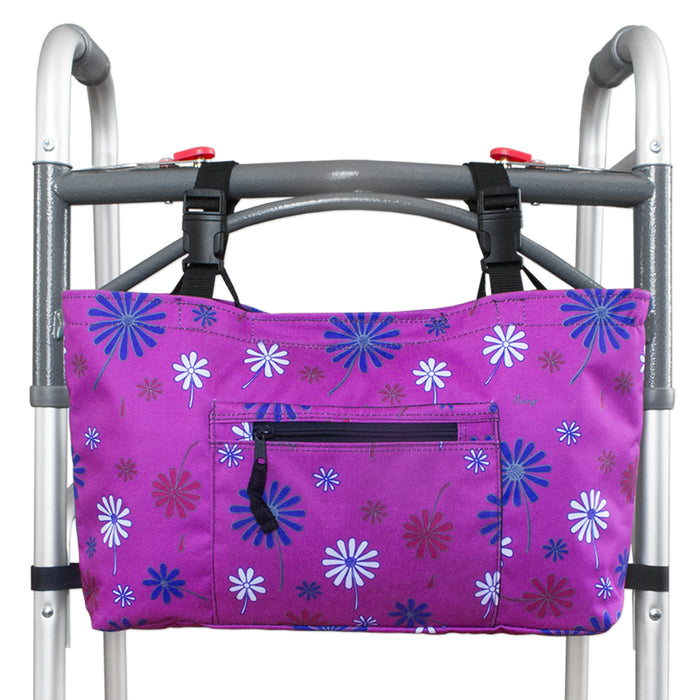 Purple Flower Walker Bag with Soft Cooler
Sale
Sale
Original price
$19.99
-
Original price
$19.99
Designed for walkers or scooters for individuals with disability or limited mobility. Fits most walkers, rollators, wheelchairs and scooters.  Made from a premium quality polyester for durability, water resistant and easy to clean with soapy water. 
INNOVATIVE SOFT COOLER COMPARTMENT:  A zippered Soft Cooler Compartment ideal for your temperature controlled items (ie:  dairy, fruits, lunch meats or diabetic supplies while you enjoy outdoor activities).
FRONT STORAGE:  8"W x 7"D pocket in the front of the bag for quick storage and a zippered compartment for holding a cell phone securely.
INTERIOR STORAGE:  The spacious interior has 2 compartments.  One storage compartment for credit cards, IDs, pens/pencils & key ring holder with an easy closure.  Second storage area has a cooler compartment with zippered top closure.
BACK STORAGE:  A large coffee mug or water bottle holder and 2 mesh pockets provide ample space to store your daily items.
SECURE ATTACHED:  Adjustable length straps that are secured with clip fasteners.  Two additional straps on the back to secure the bag to the side bars of the walker frame.
Overall bag size:  18" x 10"
Model #:  TBC-500PF - Purple Flower