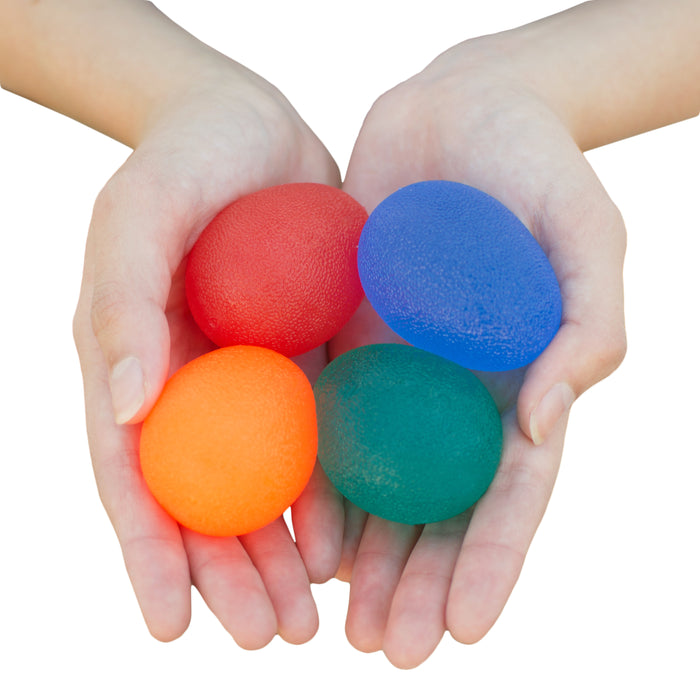 Hand Exercise Balls (4 Pack)
Sale
Sale
Original price
$14.99
-
Original price
$14.99
The RMS Egg Shaped Therapy Balls help keep your hands, wrists, and forearms strong and flexible. The therapy balls are a unique "egg" shape that fits into the contours of your palm. They are great for those experiencing hand weakness to due stroke, injury, arthritis or other disabilities. They are made of soft, supple thermoplastic rubber and come in 4 resistance levels. The blue therapy ball is "extra firm." The red ball is "firm." The green ball is "medium." The orange ball is "soft."
Exercise Guide Included:
A step by step exercise guide is included to help you jump start your journey to having more flexible, stronger hands! These exercises can help you increase grip strength, increase flexibility, reduce stiffness, reduce joint pain, and reduce stress/anxiety. The 4 resistance levels allow you to progressively increase the difficulty of your workout. You can also alternate between the 4 resistance levels for interval training. The possibilities are endless!
Unlike Traditional Metal Hand Exercisers:
Unlike traditional metal hand grips, our therapy balls are soft and will not cause calluses. This is a great way to improve hand strength and flexibility without unnecessary injury. We recommend these therapy balls for the whole family!
What is Included: 4 Therapy Balls (Each Color Coded for Its Resistance Level), 1 Travel Pouch, 1 Exercise Guide
Resistance Levels: Extra firm, firm, medium, soft
Material: Thermoplastic rubber (TPR), hypoallergenic, latex free